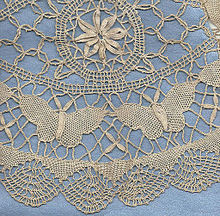 Antique Lace – Guipure Lace. The lace making industry of the town of Le Puy and the surrounding area had suffered a decline. The industry started making a come back in the 1820's and 1830's.
Manufacturers started producing a black silk lace known as guipure. This style is a bobbin lace which connects motifs with bars or plaits, rather than net or mesh.
The word guipure is French, and was used to describe a lace which had a gimp or thicker thread outlining the pattern, though this is no longer used.
Below is an example of mid 18th century antique lace – Guipure lace.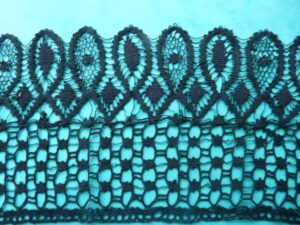 Le Puy bobbin lace, courtesy of The Lace Guild, www.laceguild.org
Some of the more popular guipure laces you may be familiar with, are Cluny Lace, which originated in France.
In the U.K., guipure lace is also known as Bedfordshire Lace, and Genoese Lace (Maltese lace).
Below is an example of Guipure lace with a Torchon lace edging,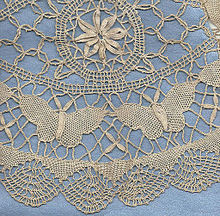 Torchon lace is another lace that was popular all over Europe, and was used by the middle classes to create lace edging.
Known for its strength, Torchon lace was based on simple design with the pattern made at the same time as the ground.
Torchon was also an inexpensive lace compared to some other hand made laces.
More surrounding the history of lace making can be found here