Lace bobbins have always been a fascination for me, the picture to the left is a selection from my own collection, they are on my lace pillow creating the lace shown here. 
There is so much history and folklore surrounding the bobbins and the spangles (beading) that is added to them.
I can make lace by hand, although at the moment can only do this when my cats are asleep, otherwise they come running at the sound of the beads.
The oldest lace bobbin in the UK dates back to the late 1600's or early 1700's and is made of bone. This was a fairly typical material used, although wood, brass and more rarely pewter silver and ivory were all used to create bobbins for lace making. 
The wood was most often sourced from the local area and was for the most part fruit wood.
The first written  mention of  bobbin laces was found in the introduction to the Zurich Pattern Book, which was printed in 1561.
Probably the most well know of the English laces is 'Honiton', which originated in Honiton in  Devon.
The Honiton lace bobbin and then the East Midlands Bobbin (which typically has a double neck) and is spangled.
More about the history of bobbin lace can be found here.
These are selection of bobbins from my own collection some are bone, some are wood. Mine have different beads added to them some of which I added.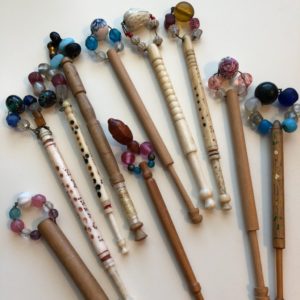 One of the main reasons for adding spangles is believed to have been to add weight to the bobbin, so that when working it keeps the thread taught.
Spangles did not consist of just beads, they also included charms and mementos such as buttons, shell or coins.
When making lace you can be working with a lot of bobbins at one time usually in pairs, you can spangle the bobbins in matching pairs to make it easier when working.
Many of the older bone bobbins had inscriptions on them, here are a couple from my collection below, one says "Love me truly" and the  other says "Joseph". Often they were given as gifts so the inscriptions were messages or had meaning for the recipient.
They would be given to commemorate a birth or a death, some carried blessing or religious messages or were given as gifts by young men to their sweethearts.
The bobbin was a tool of the trade, and unique to the lace maker, who typically would come from a poor background, their collection could be a personal reflection of family relations, friendships and love life.
Equally, the bobbin was also a commodity, since bobbin-making also ran in families as did lace-making.
Bobbins were not only bought and gifted, but also stolen! As in this newspaper clipping from the Bucks and Herald Newspaper on Saturday, 14 July 1860,

Bucks and Herald Newspaper on Saturday, 14 July 1860
The thief Mary Dormer was sentenced to six weeks imprisonment.
If you are interested in learning more about lace bobbins, or lace-making itself there are some good books out there.
This post may contain affiliate links. Please read our disclosure for more info.