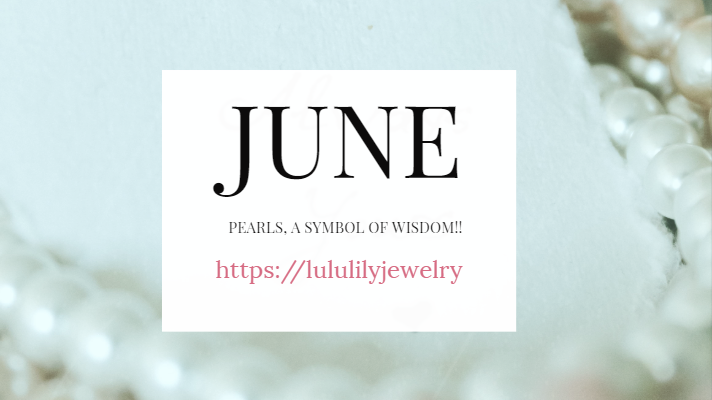 Pearls the birthstone for June Babies
Pearls are the traditional birthstone for June birthdays, and a personal favorite, they are also associated with the third and thirtieth wedding anniversary.
Pearls symbolize wisdom, purity, humility and innocence and have long used in bridal jewelry, or given as a wedding gift.
Pearls have long been known as the "Queen of Gems" with natural pearls now being a rare find, due in part to pollution. Which is why most of the pearls found on the market nowadays are cultured pearls.
Cultured pearls combine the beauty of the pearl, with a helping hand from man to create a beautiful organic gem, they also come in a myriad of different shapes and colors.
June babies can also choose to wear alexandrite or moonstone as their birthstone. June along with August and December are the only months that have three birthstones to choose from
Birthstone poem printables from LululilyJewelry can be found here, ready to print and frame to make a unique gift. Lululily has also just opened a printables store on Etsy and has a larger selection including party signage, children's prints and more which can be found here
Famous Pearls
Probably one of the most famous pearls in the world, it's history spans around 500 years. This pearl was once owned by Spanish monarchs, and more recently by actress Elizabeth Taylor.
This beautiful pear shaped pearl remains one of the largest perfectly symmetrical pearls in the world.
The setting below was designed by Elizabeth Taylor along with Al Durante of Cartier. It comprises old mine cut and rose cut diamonds along with rubies and cultured pearls.
Akoya Pearls
Some of the most popular pearls are Akoya (a salt water pearl, and almost consistently round).
The Akoya Oyster is a small oyster and the pearls typically range from 2- 11mm; they are considered to be the "classic" pearl, with colors ranging from white to cream to pale rose pink overtones.
Tahitian Pearls
Tahitian pearls typically come in  darker color combinations, sometimes known as the Black Pearl.
However, Tahitian pearls can also be blue, green, purple with green, rose overtones, cream and silver. These are a larger pearl, usually around 8 – 14mm.
South Sea Pearls
South Sea Pearls are the largest of the pearls, coming in at anywhere between 9 and 20mm. They are also among the most rare and expensive pearls available.
There are many different kinds of pearl, they have been harvested for thousands of years and are symbolic of class, purity, refinement and wealth.
Although today with modern farming methods and the different colors and shapes available, pearls appeal to a much broader audience than just Grandma.
Keishi Pearls



Pearls in Medicine and Cosmetics
Pearls have been used by the Chinese for centuries in Chinese medicine, as an anti-inflammatory and also for detoxification.
In India it was used in Ayurvedic medicine, and in thirteenth century Europe, it was used to treat the insanity of Charles VI of France.
100% pure pearl powder can be taken internally to help promote skin health, I saw this for sale on a trip to the far east a few years ago.
The pearl can be crushed into a powder and mixed into a paste to make a face mask, and can also be taken as a drink or tincture.
Pearls have been used in various forms for thousands of years for their beautifying benefits, supposedly it makes your skin soft and helps with anti ageing. If you try it out leave us comments below.
Please leave a message and let us know if you enjoyed this article, what other topics or "how to's" would you like to see?
This post may contain affiliate links. Please read our disclosure for more info.