Brief History of Lace and Lace Making
This brief history of lace and lace making goes back several centuries but this is a very brief outline.
However, we do not have a definite date as to when lace originated in the United Kingdom. Early texts would suggest that lace as we now know it, originated in the 16th century.
Although there were already fine open weave finishes and nets, the techniques used to create them were not the same as for hand woven European lace.
The lace industry and demand for lace really took off during the latter half of the 16th century, with needle lace (made using a single needle and thread).
Bobbin lace (made using multiple strands of thread and bobbins, usually worked in pairs).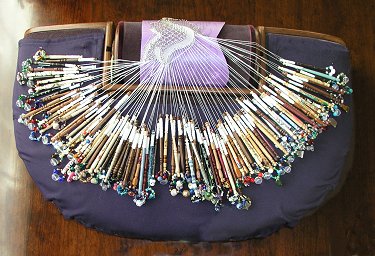 Bobbin lace though it looks more complex, is generally quicker to work than needle lace. Skilled workers were soon able to copy the needle lace designs.
Many examples of this type of work can be seen in 16th and 17th century portraits.
Here are more fascinating facts about lace bobbins history and folklore .
European Lace
There is no way to know for sure where lace originated. But lace was first associated with the city of Venice in Italy.
At that time, Venice was a vibrant trading center. It was also in Venice where the first known lace pattern books originated. (Le Pompe in the 1550's).
By the 16th century there was high quality lace being made in the UK and Europe. Some of the most well known being Honiton (UK), Chantilly (France), Irish Lace and Belgian Lace.
History of Lace in Fashion
Through the early 16th century lace was used to make the standing ruff, or collars with bold needle lace.
These were later replaced with narrower bobbin lace collars, using many layers of the softer lace, which were surely more comfortable to wear.
During this time, there was also an increased demand for lace edged in gold and silver to provide decoration for garments.
It was also used to edge gloves, shoe rosettes, jackets and the like. Although it was only the wealthy who could afford such fine clothing.
The middle of the seventeenth century shows that lace makers had further honed their skills, and were able to produce some very intricate work by using raised needle lace (Gros Point), and Milanese lace which had very flowing forms.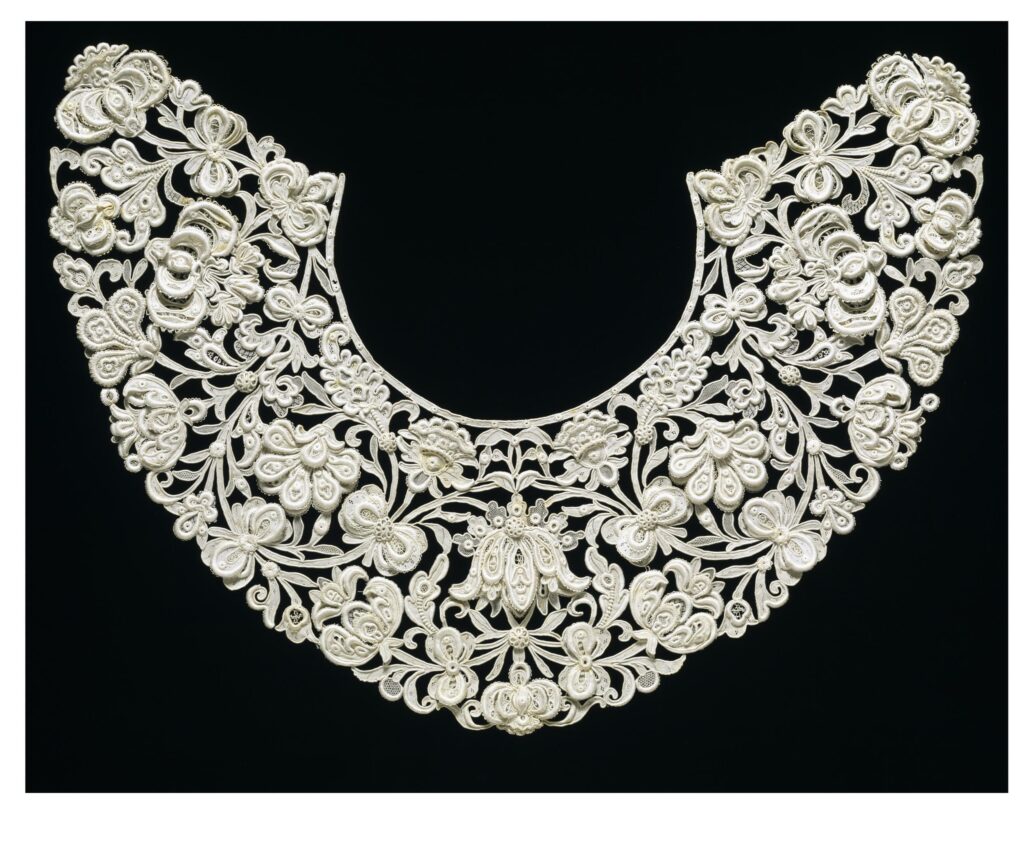 Some of the most beautiful lace came during the 18th century, worked in very fine linen thread, and was much favored by the aristocracy and wealthy members of society.
This included Flemish bobbin laces, Binche, Valenciennes and Mechlin. Also the French needle laces notably Argentan and Alencon.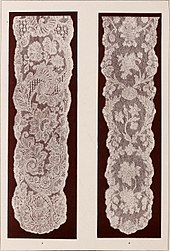 A typical use for this type of lace was cravat ends, and lappets (used in women's head wear) as shown right.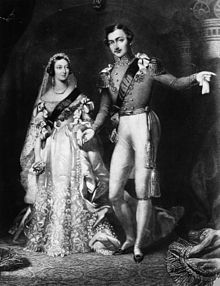 Lace had become very popular in the fashion of the day for nobility and royalty and continued to be so.
Queen Victoria wore a white wedding gown with three flounces of Honiton lace around the bottom. More information on Queen Victoria's wedding dress can be found here.
This did much to help boost the Honiton lace industry at the time.
The Industrial Revolution, and its effect on lace making
The industrial revolution in Britain had a heavy impact on the lace making industry. The first machine made lace appeared towards the end of the eighteenth century.
But continuous improvements in machinery, and their ability to be able to copy even the more complex lace designs, made it increasingly difficult for lace makers to be able to make a living.
The hand made lace industry in England had all but disappeared by 1900. Although some small organisations remained who helped lacemakers with training, patterns and an outlet for their work.
If you are interested in the History of Lace and Lace Making, then the following book is considered to be a classical work on this subject.
I own this publication and it is an excellent starting point to learn more, and with a wealth of pictures and illustrations.
I also own this book, The Technique of Bobbin Lace, again absolutely full of information also including lace making equipment. Plus more on some of the English laces such as Torchon, Bucks Point and Bedford to name a few.
Bibliography
Palliser, Bury; History of Lace (Publisher: Dover Publications; Revised ed. edition (March 16, 2012))
Dye, Gilian; Silver Threads & Going for Gold (The Lace Guild, 2001)
Nottingham, Pamela; The Technique of Bobbin Lace (Batsford, 1976)
https://en.wikipedia.org
https://www.laceguild.org/
http://needlelacetalk.ning.com/
This post may contain affiliate links. Please read our disclosure for more info.