Behind the scenes with Lululilyjewelry.
It's been a busy afternoon in the Lululily Studio, creating away on some new gemstone necklaces with little interruption!
Until someone decided to wake up when I was part way through and then got a little sulky after getting told off for touching stuff. Sometimes the temptation is just too much for little paws!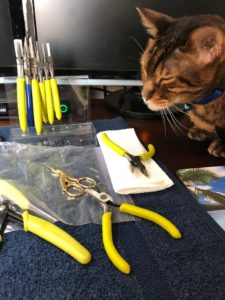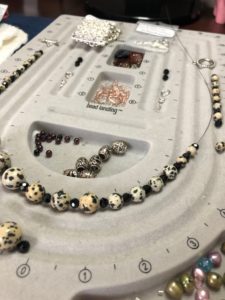 Trying to decide what to make, but just too many choices available. Eventually, after trying a few different combinations and layouts I had a couple of designs I was happy with. Note to self, I really do need to be more organized.
Finally settled on Tigers Eye Gemstone, this particular batch is beautiful with strong brown and gold tones. The necklace is substantial and will surely get you noticed. Great fall/autumn colors. This gemstone is synonymous with peacefulness, clarity, financial stability and intelligence.
Then Dalmation Jasper (correct name is actually Dalmation Stone) which is good for the balancing of emotional, physical, intellectual and spiritual energy amongst other things. This necklace is soft creams and black, with black glass beads that complement the jasper gemstone beautifully.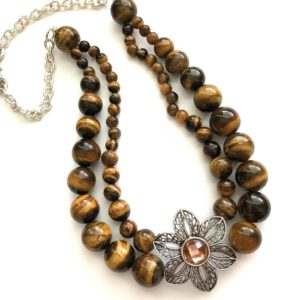 Tigers Eye Multi Strand Necklace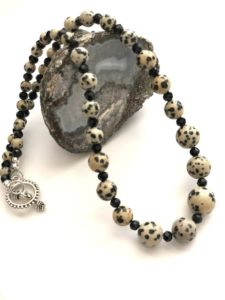 Dalmation Jasper Necklace
So here is the result, two new gemstone necklaces handmade by me, but still lots more ideas to come, sometimes it is just overwhelming deciding what to make.. I just need more hours in the day.
If you enjoyed a day in the life of the Lululilyjewelry studio, please feel free to share your own experiences.
If you would like to share pictures of your own creations please feel free to contact me here it would be fun to connect with other jewelry makers.