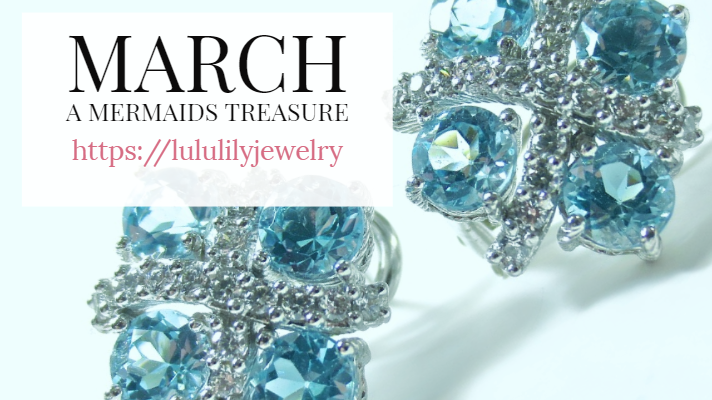 Aquamarine the gemstone for March, is part of the Beryl family which includes gemstones such as Emerald and Morganite.
There is much folklore surrounding aquamarine gemstone, here a few snippets to enjoy. The ancient Romans believed that aquamarine provided energy and cured laziness, and would also protect them against any dangers while travelling by sea.
A wedding gift
A bridegroom can give aquamarine as a gift to his bride, not just for the "something blue", but also because when exchanged by lovers it can help the path of their interactions.
Aquamarine in crystal healing
Aquamarine can be used in a similar way to amethyst, for help in calming emotional problems, it can also be worn to help relieve the pain of toothache and to help illnesses of the jaw, throat and stomach.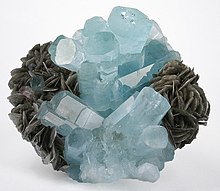 Since aquamarine is considered a cleansing and purifying stone. it is said that if you make a tincture by placing an aquamarine in a glass of fresh water.
Leave in full moonlight (outdoors is best), for three hours.
Remove the stone and drink the liquid for purification and heightened psychic awareness.
I have not tried any of these things so do not take my word that it works, though you may like to try it for yourself!
There is a birthday poem associated with March refers to the traditional birthstone, it is available as a printable and is ready to frame, you can find it  here
March Gemstone Aquamarine, being part of the Beryl family is fairly hard wearing and good for most types of jewelry. The bracelet shown below was made by me using aquamarine gemstone and Swarovski crystal. It can be found here
Where is Aquamarine found
Aquamarine deposits can be found in several States within the U.S. including Wyoming, Idaho and central Colorado.
The largest gemstone quality aquamarine ever mined was found in Marambaia, Minas Gerais, Brazil, in 1910. Weighing in at over 110 kg (243 lb), its dimensions were 48.5 cm (19 in) long and 42 cm (16 1⁄2 in) in diameter.
The Dom Pedro aquamarine is the world's largest cut 
aquamarine
gem. It was cut from a crystal originally weighing approximately 100 pounds (45 kg) and measuring more than 3 feet (0.91 m) in length
This post may contain affiliate links. Please read our disclosure for more info.